Baby's First Dental Visit
The American Academy of Pediatric Dentistry recommends to secure oral health from the moment your baby turns 6 months old or starts teething.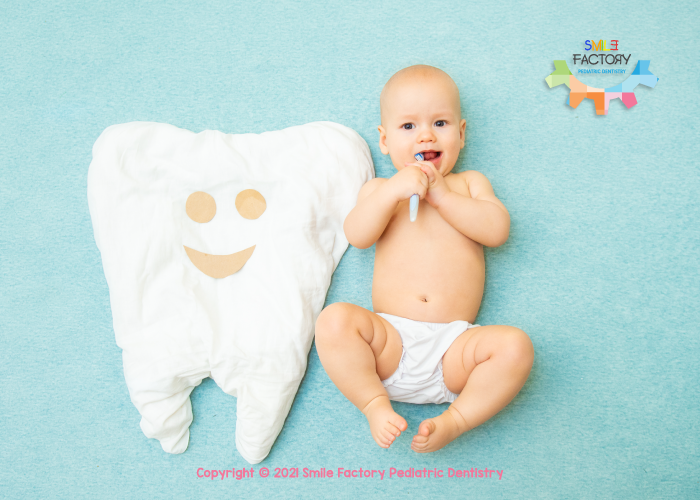 How To Prepare For Your Child's First Dental Visit
The AAPD recommends taking your children within 6 months of being born or as soon as the first tooth starts coming in.
Build Excitement And Understanding About The Dentist
Teach your children why it is important to go to the dentist. Book a morning appointment when your children are wide-awake and alert. Give them some expectations on what they can expect from room to room of their visit (i.e. lobby/waiting room, brush station, dentist's chair, and more).
Prepare Yourself And Ask Questions
Feel free to ask our dental team any questions prior to your appointment and during. And remember to give support by remaining calm while in the dental exam room. Children can pick up parents' anxieties and become anxious themselves.
Prepare Our Team
Let us know your child's complete health history. Communicate if your child tends to be stubborn, defiant, anxious, or fearful in other situations so we know what to expect and can make the best possible experience for your child.
Your Child's First Visit
May include a full exam of the teeth, jaws, bite, gums, and oral tissues to check growth and development. Your child may also need a gentle cleaning.
Your Child's Future Visits
Children should see the dentist every six months. Frequent visits can also help keep an eye on a development problem.
At-Home Dental Care
Before teeth come in, clean gums with a clean, damp cloth.
Brush with a small, soft-bristled toothbrush with a very small amount of toothpaste, the size of a grain of rice. Use a pea-sized dab of fluoridated toothpaste after 3 years of age when the child is old enough to spit out the toothpaste after brushing.
Don't give children a bottle of milk, juice, or sweetened liquid at bedtime or when put down to nap to prevent baby bottle tooth decay. And limit the time your child has a bottle.
Help your child brush his or her own teeth until age seven or eight.
Limit foods and treats that increase tooth decay like hard or sticky candies, fruit leather, and sweetened drinks and juice. Instead of juice, offer fruit since fiber in fruit can rub teeth clean whereas, juice coats the teeth in sugar.
Babies and Infants
Many parents don't know what to expect or how to care for their infant's teeth. Follow some of these helpful tips and feel free to give us a call with any questions.
What should I use to clean my baby's teeth?
Any soft-bristled toothbrush with a small head, preferably one designed specifically for infants, should be used at least once a day at bedtime.
Are baby teeth really that important to my child?
Primary teeth help children speak clearly, chew, and aid in forming a path for permanent teeth to follow.
Avoid A Long Wait Time By: